Expand M is a new multifunctional GADGETS designed by Beelink. It integrates the functions of SSD mobile hard drives and four-in-one expansion docks. It is compact and easy to carry. It can meet the needs of the daily port expansion and additional fast storage needs and supports a variety of platform equipment.
Main feature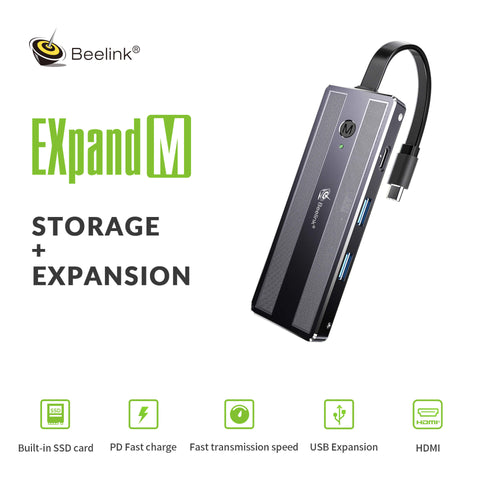 Screen mirroring projection
4 in 1 port integration
Expansion peripheral connection
Support 4K output
Switch SSD working status with one key
M.2 SSD mobile storage
Full metal body
Scalable computers, laptops, tablets, mobile phones,
Each configuration of Expand M has two colors to choose from, professional and calm Dark blue, mysterious and calm Space gray, you can choose the color you like.
Please note the color you want when you buy, if not, we will send you Dark Blue by default.
Expand M function

First of all, Expand M is a USB-C 4-IN-1 Docking Station

Expand M has HDMI HD video port*1, which can support 4K output, so you can connect any device with USB-C (support DP alt mode) to a monitor or TV with HDMI port through Expand M, including mobile phones and tablets Computers and laptops can expand a large screen, allowing you to watch on a larger screen.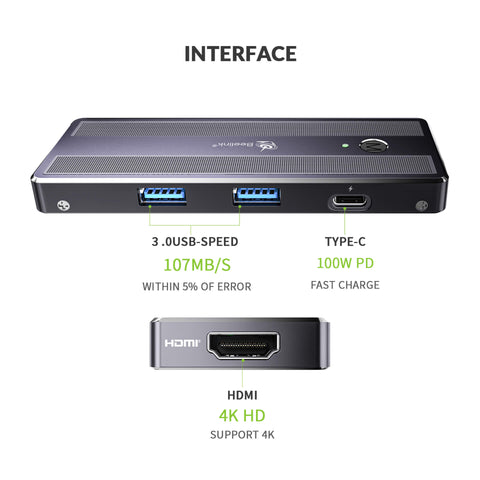 Expand M has two USB-A 3.0. In our actual test, the average speed can reach 107M/S. Whether you use USB-A to connect an external hard drive to transfer files or connect peripherals, you can get a good speed, and there is no latency.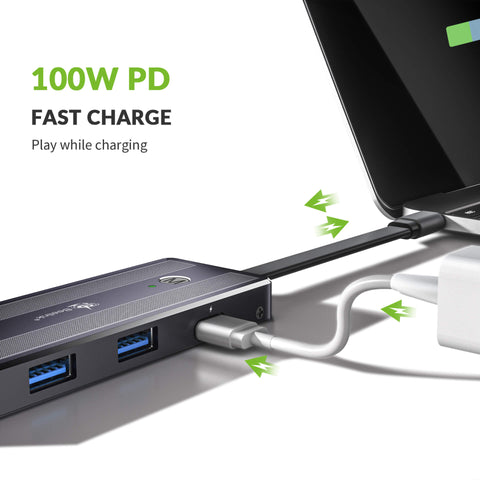 Expand M has a USB-C input port, supports PD fast charge protocol, and can be connected to a power adapter of up to 100w to directly supply power to connected devices.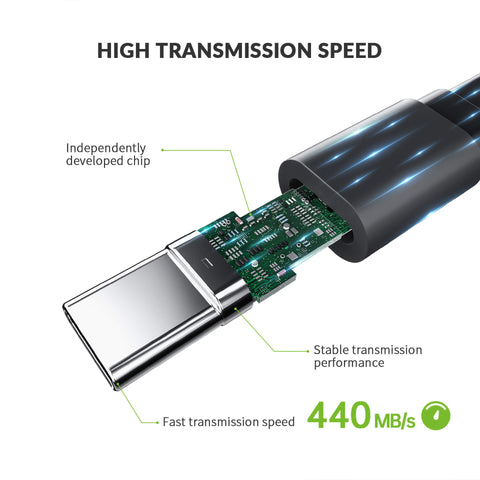 Expand M extended USB-C cable is a USB-C output port, supports DP ALT MODE function can output video and audio signals, supports 100W PD fast charge protocol, can also be used as an output transmission port, the highest speed can reach 440M/ S.

High-speed  SSD mobile storage

Expand M has a built-in M.2 2280 SSD slot and adopts the third-generation SATA transmission protocol. Measured SSD data transmission speed can reach 440M/S, and it can support up to 4TB expansion.
Expand M exploded view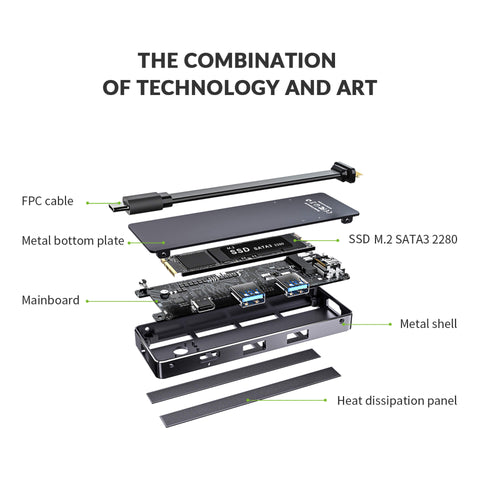 Expand M uses an all-metal material, which further provides high drop resistance, corrosion resistance, and strong heat dissipation characteristics, which can effectively extend the service life.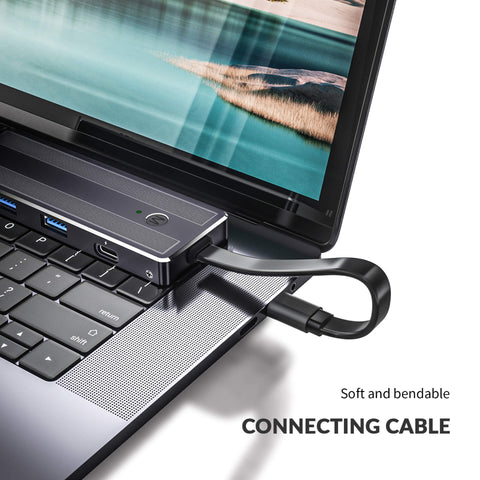 The customized USB-C extension cable uses the FPC cable, and the metal wire is wrapped by rubber. It is soft and bendable and can be folded at will without damaging the cable.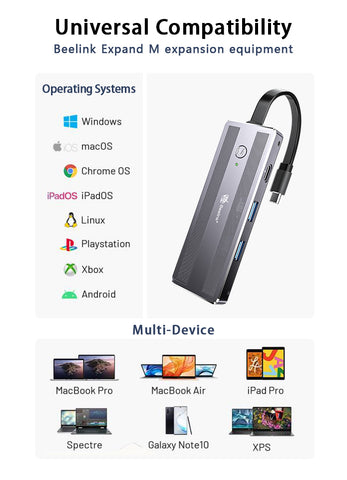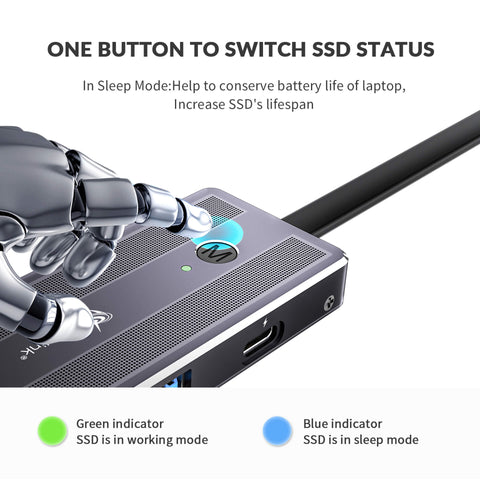 The read and write life of SSD is determined by the constitution of the storage particles, but the service life of the best storage particles is fixed. Expand M can switch the operating state of the SSD through the specially designed "M" key. When the green light is on, the SSD is in working condition, when the blue light is on, the SSD will stop reading and writing to extend the service life of the SSD. If you connect a mobile device such as a laptop, it can also reduce power consumption Extend the use time of mobile devices.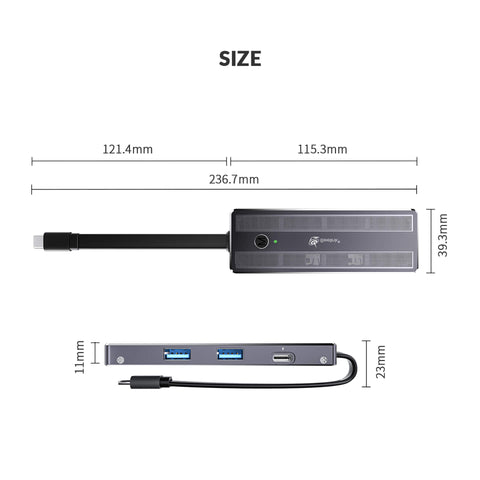 The size of Expand M is 115.3mm*39.3mm*11mm, the length of the USB-C extension cable is 121.4mm, After being folded, the length is less than 12cm, and it can be carried with you in your pocket.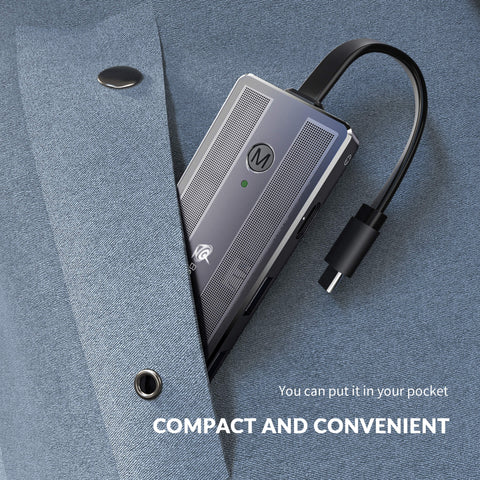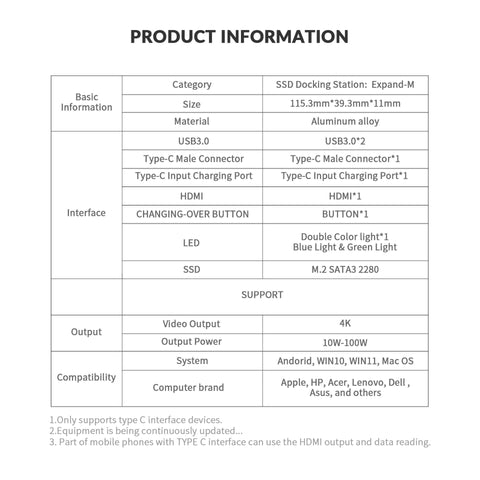 Small
The mini size can greatly save space on the desktop and is easy to carry.
Powerful
Powerful performance and rich functions will bring you a good experience.
Cost-effective
The price is fully in line with the value of the product and will not cost you any more.